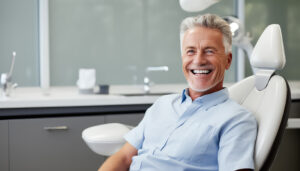 If you have been referred to a prosthodontist by your regular dental care provider, you may be wondering what that is and why your normal dentist cannot provide the same services. Dr. Stuart Dexter, the prosthodontist of Prairie Village, KS, is here to help you with needs ranging from implants to oral surgery.
What Services Does A Prosthodontist Provide
The main goal of this type of dentistry is to restore and replace your teeth. This can be due to cosmetic reasons or health concerns. Our office can provide several services to our patients, including:
Oral Surgery
When you need removal of teeth, such as your third molars, your dentist may refer you to a specialist. Removing your wisdom teeth is not always necessary, but it can be if there are signs of impact. One of the best ways to prevent more severe problems is by removing them.
Prosthetics
Whether you've lost a tooth due to an accident, or dental-related problems, or want to fix the visual appearance of a tooth, we can offer you a solution. Losing a tooth can lead to lower self-esteem and create problems with eating, drinking, and daily life.  Prosthetics can replace a tooth and have a natural look so no one will know the difference and help restore your mouth back to regular functioning.
3) Implants
These are sturdier structures that help secure dental prosthetics in place. Prosthetics of the past such as dentures and bridges used to be adhered with glue-like material that you would put in daily. With implants, we can secure the prosthetic to a post and abutment so that your artificial placement can stay for a lifetime.
The Process Of Referral
Your general dentist can recommend that you come to this office if you are looking to fix concerns that they do not offer in their office. Many general dentists focus on normal oral hygiene and refer you to other offices depending on your needs. Don't worry, this is common, and we will help you every step of the way.
First, speak with your dentist about your concerns. They may already have a treatment plan in place for you to receive outside care. If you are looking for restoration, replacement, or surgery, this is the right office for you! Then, they will arrange for you to see us. When you come in for your appointment here, you will fill out forms regarding information about your health and dental treatment plan. From there, we will discuss together the treatment you are looking for and schedule the appointment.
Call Today!
If you want to improve your smile and oral health, call Dr. Stuart Dexter in Prairie Village, KS, today at 913-362-8200